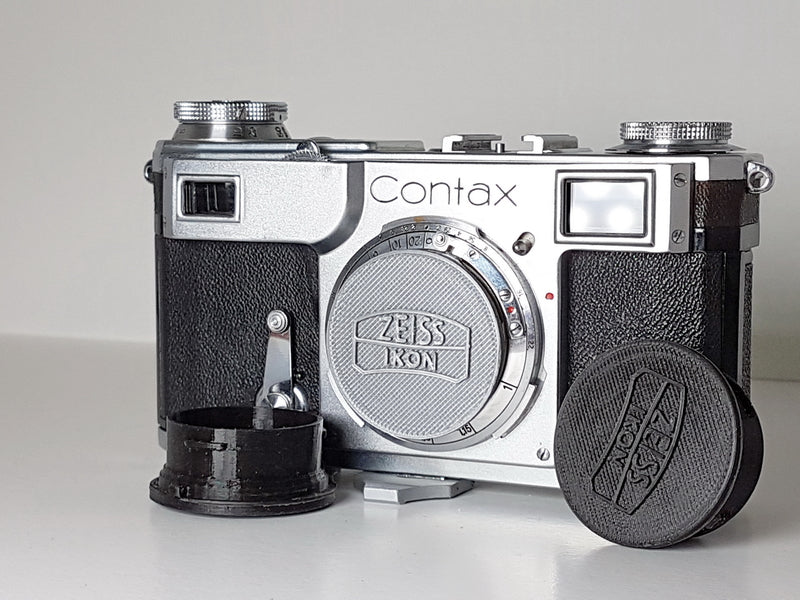 Petrakla Classic Cameras
Custom Petrakla Contax body cap, one grey or black.
One of the recurrent problems for Contax camera owners is finding a body cap for these lovely cameras. Body caps are of course useful if you want to take an extra body along with you, loaded with a different type of film. They're also very handy if you have a number of vintage Contax cameras that you'd like to store without the lenses, so that they don't take up too much room.
If you've been looking for them you'll know that it's impossible to find a Contax rangefinder body cap. We've been collecting and using vintage cameras for over 45 years and I have never seen a one. Either they are incredibly rare or they simply never existed. Personally I suspect that the manufacturing cost for a body cap that fit the Contax lens mount was so high that Zeiss-Ikon simply decided not to bother….
However as enthusiasts, we decided it was time that someone did take time to bother with one. So we designed a 3D printed cap that locks securely into the internal lens mount. We've tested them on a number of our own cameras and we're pretty happy with them. So I think you'll enjoy them too.
These caps will fit the prewar/wartime Contax I, II, III and the post-war Contax IIa & IIIa cameras. (Naturally they'll also fit the Nikon Rangefinder cameras and Soviet copies because of their Contax style lens mount.)
The price above is for a one (1) body cap. No charge for shipping. We produce them in grey and black. When ordering, please indicate your color choice. (Personally I like the grey one best!)
 By the way, if you want a body cap for one of the "the other" rangefinder cameras let us know and we'll send you a plain faced cap without a logo.    
---
Share this Product
---
More from this Category